Eternax Solar offers independent solar PV electrical testing. We serve the solar facility owner by establishing a benchmark performance reference for the solar asset. This will provide you, the owner, with confirmation of the systems current performance versus your model's predictions. Additionally, the data will serve as a baseline reference to compare against future measurements so you can better understand the degradation rate of the system's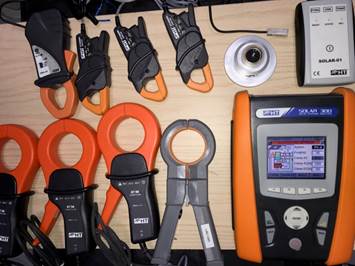 components.
Module warranties typically run for periods from 20 to 30 years with the degradation rate normally warranted at typically -0.5% per year.
Eternax's testing involves simultaneous measurements of the direct current and voltage (Idc & Vdc) production*, the alternating current and voltage (Iac & Vac) at the inverter outputs, the ambient temperature, the module temperature, and most importantly the irradiation at the time of the testing as well as many other electrical parameters. Additionally an overall efficiency number can be calculated by the test instrument. 
Please click on the sample report link above to review a reference sample report. Note that reports will vary depending on the PV system design.
Eternax Solar owns in excess of 35 solar installations ranging from 5kW to 500kW in size. As an owner of revenue producing solar PV facilities we know and value the importance of performance testing these assets to ensure their optimal reliability. We recommend periodic testing over the 3 decades of the facility's life.
Testing can reveal excessive soiling or foliage encroachment shading or other production impairments. Please call us for further details.
Notes:
* In the case of the use of microinverters the access to the DC measurements will be impeded and will affect the completeness of the results presentation. Meaningful electrical performance data can still be gathered regardless including overall system performance for a given irridation level.
- System circuit diagrams may be required to support the testing process.